Shipping Furniture
Colour & Finishing
Specs
Product Reviews
About Fetters
Shipping & Returns
Fetters™ furniture can be shipped worldwide. Shipping will be added automatically when you checkout.
To display this before, please add the item to your cart and use the Shipping Calculator on the cart page to show the exact cost.
Taxes and Import Duty
Please be aware that shipments sent outside the EU may be subject to import taxes and brokerage fees.
Quote Only Shipping
Whilst we try to provide automatic pricing for most furniture pieces, extra large furniture will need shipping costs to be quoted based on your location. This will be confirmed during checkout. Please contact us with your shipping address for a full quote prior to checkout.
Furniture Shipping Guide Prices
UK
Between £49.99 and £149.99
North America
From £99.99 + import taxes & brockerage which are not included.
Rest of World
Prices start at £149.99 + import taxes & brockerage which are not included.
Fetters offer a range of colour and finish options for furniture at no extra cost. These offer something more unique and personal as well as ensuring the style and finish is perfect for your playroom or dungeon.

Metal Powder Coating Options

Black
A solid black powder coat with a slight gloss.
Grey
A solid grey powder coat with a slight gloss.
White
A bright white powder coating with a slight gloss finish.
Clear
A clear powder coating on raw iron or steel. The natural colour will show through and varies from silver to dark grey.
Padding Colour Options
Black Leather
Firm and durable Black Leather.
Brown Leather
Brown Leather adds a unique natural touch to furniture.
Red Leather
Rich and vibrant. Our Red Leather makes pieces really pop.
Grey Leather
Elegant and understanted. Our Grey Leather hides are beautiful as they are subtle.
White Leather
Bright and fresh White Leather, perfect for medical furniture.
Rubluxe
A unique Fetters fabric finish that's waterproof and soft with a rubber touch texture.
Preview Colours
| | |
| --- | --- |
| Product Code | W-FF07 |
| Product Type | Customisable |
| Brand | Fetters |
Stock status in our London Store
No instore stock information is currently available for this product.
It may not be in stock. Contact us to find out.
From Our Customers
Intimidating from the moment you see it SMGUYSYD says

SMGUYSYD says

I was recently given the most severe caning I've experienced in one of these fearsome benches. Just seeing it was enough to get the adrenaline pumping, let alone being strapped down to it. The whole frame is rock solid and I didn't feel it shake once we started. The head recess is the best feature by far - I have hurt my neck in the past from reflex actions on frames and horses where the head isn't secured. With this one, my head couldn't budge a bit and it felt a lot safer.

The contour from the hips through to the knees is more comfortable than anything Ive tried before and doesn't put strain on your hamstrings or lower back. It presented my caner with an unmissable target zone completely clear of any restraint straps or fixings and I found I could relax the lower half of my body more easily. My balls seemed to be protected by the angle of the contour, however probably my only feedback is that they did feel exposed.

I actually wouldn't mind never having to experience one again, but if I do find myself in that situation in future this bench would be my preference for the head recess alone.

(Posted on 08/04/2017)

Iconic design with amazing build quality and service SirDaveUK says

SirDaveUK says

This is called a "Whipping Bench" but don't let that limit your imagination as to what this can be used for!! It is such a versatile piece of furniture to have in your playroom / dungeon! I've used it for so many different activities, and it always draws immediate attention when someone enters the dungeon.

The buckle protectors on the straps are fantastic for ensuring that they don't pinch or grab the skin of the sub strapped into it, where the top moves round to the front of the down where the thighs are this isn't a simple square junction, it has an added padded section to give it a curve that makes it much more comfortable for longer term positioning. There is also a small attachment point on the cross bar under the legs that can come in very handy for adding a stretch to the sub's balls.

I originally purchased this without the head recess, but contacted Fetters and they were more then happy to modify my original bench to add the head recess to it. You wouldn't know it was the same bench the work on it is so good.

When strapped down into this you aren't going anywhere, and importantly for the sub it feels safe and secure. It doesn't wobbly, it doesn't shift - it is build to last and to be well used!

(Posted on 13/06/2016)
Already Have This Product?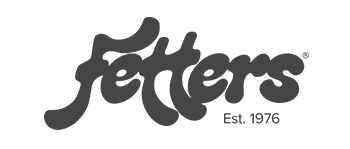 Since 1976, Fetters have held a reputation for ingenious design, attention to detail and the skilled craftsmanship of premium bondage toys and accessories. With many items made in their central England workshop the name Fetters is your guarantee of unrivalled quality. At Regulation, we stock the entire range of Fetters brand products and are able to offer many of their bespoke and made to order services.
More >
International Delivery
International Standardfrom £5.00
Worldwide Courierfrom £20.00
Packages sent outside the EU may be subject to import taxes and brokerage fees.
More >
Returns or Exchanges
Ordered something and changed your mind? Most of our items can be returned or exchanged.
Discreet Packaging

Your order will be shipped in plain discreet padded envelopes or boxes using the required amount of padding and protection.