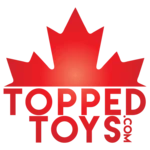 Topped Toys is the creation of people that really, really, really love sex toys. We have decades of experience pushing our physical and mental boundaries with toys from every major manufacturer. And, as much as we love the toys that are out there, we've always felt we could do it better.
Each shape begins as a unique, hand-sculpted model inspired from imagination with an eye towards what would make for great hole play.
MADE IN CANADA
Topped Toys are proudly made in Canada and we offer easy international shipping to most countries. We hope you'll enjoy using our toys as much as we've enjoyed making them.
COMMITED TO QUALITY AND FUN
Topped Toys set out to design a line of toys that meet their high standards for quality and fun at a price that isn't too hard to take.
To learn even more about Topped Toys along with user guides visit
their blog.
Copyright © 1991-2021 REGULATION™. All rights reserved.